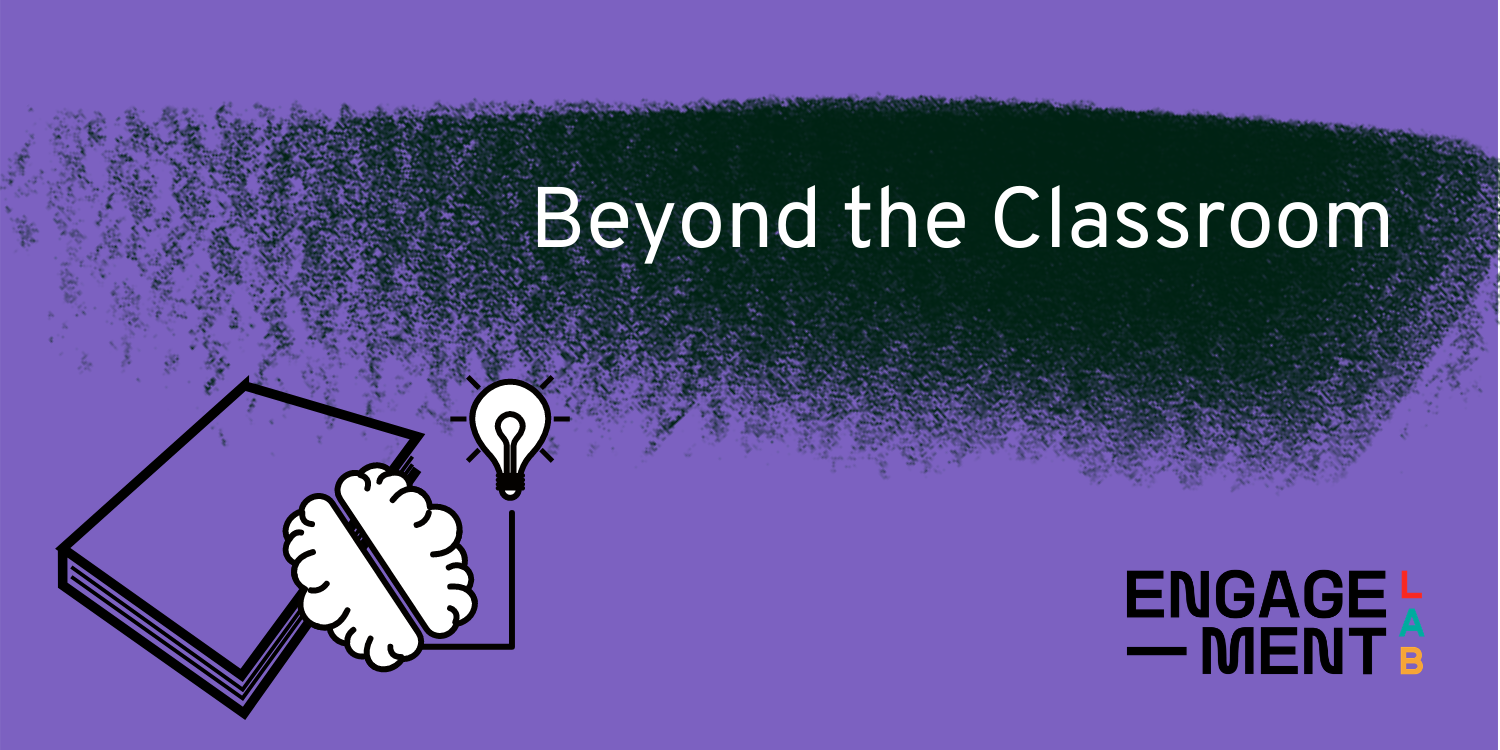 Merriam-Webster defines pedagogy as the art, science, or profession of teaching. When considering the act of teaching, many may not think of it as an art or science, but the Emerson College Engagement Lab would like to play a part in changing this perception. The Lab wants Emerson students to use their skills in a real-world sense through partnered studios, courses that involve collaboration with external organizations, where they can explore their creativity and critical thinking abilities.
Eric Gordon, Executive Director of the Engagement Lab, has been a proponent for and teacher of partnered studios for years. Currently, he is teaching Civic Media Collaborative Design Studio at MIT, a course with eleven partners who take the class with the students to create civic projects based on actual community needs. He describes partnered studios as an opportunity to learn while doing within the scope of social responsibility. "The classroom isn't a simulation, but the actual thing itself," he says.
What makes courses like this unique is that they stem directly from a problem, which students are then tasked with trying to solve. They are given the space to navigate their talents and experiment to find a possible solution. Because of the nature of these classes, there is a risk of failure — deliverables may not meet the expectations of the partner organizations or a student's work may not produce the expected outcome — but that can make the experience even more worthwhile as failure is just another learning opportunity.
Gordon believes Emerson could be a leader in this pedagogical model and has advocated for a transition in the Engagement Lab from an emphasis on research to a focus on teaching. Though the Lab has been running for over ten years, it had more of an impact outside of Emerson than it did inside. This switch in focus brought about the Media Design graduate program, where students use design and technology to address civic issues within the surrounding communities. Moving forward, the Engagement Lab will invest in the expansion and sustainability of partnered studio courses across the college. "We are going to support the development of new partnerships and promote this studio model among faculty from different programs," says Vinicius Navarro, Interim Director of Learning at the Lab. This semester, several partnered studio courses are being offered to undergraduate students at Emerson.
Thomas Vogel, professor in Marketing Communication, is currently teaching To Be Heard in partnership with beheard.world, a Boston-based non-profit organization that uses performing art to uplift marginalized voices and address racism. The class focuses on the values beheard.world represents, explores racial and social justice from multiple perspectives, and encourages students to learn about their creative processes. Vogel strongly emphasizes the interdisciplinarity of the class, as it is offered to both Marketing and Publishing students. Not only will students learn from the class and the organization but from each other as well, and they will be pushed to think critically and creatively.
"This course is completely real. It's life. It's real-time. It's remaining on your toes at all times," Vogel describes. "And it's learning to rely on each individual process, creative process."
Another partnered studio on the Emerson campus is Live Art & Digital Cultures taught by Ioana Jucan at the Marlboro Institute for Liberal Arts and Interdisciplinary Studies and the Business of Creative Enterprises program. The class is in collaboration with CultureHub, a global art and technology organization, and the Seoul Institute of the Arts. It explores today's society and how it has changed our relationships with media and technology, especially when dealing with art in the context of COVID-19. As a scholar, artist, and theater director, Jucan wanted to experiment with her creativity in this new COVID-safe, digital arena.
Like To Be Heard, this course focuses on critical and creative thinking but also explores accessibility and collaboration in digital spaces. It examines the concept of "liveness" and what that means in the midst of a global pandemic that has brought us even deeper into the digital space. For example, as Jucan says, "You can't be present on Zoom if you're not present in your body and mind."
Partnered studios offer new, meaningful experiences to students who wish to use their abilities in a real-life capacity. The Engagement Lab hopes to work with more faculty and organizations to further benefit both students and local communities. As these courses become more present on the Emerson campus, students are encouraged to participate, learn, and benefit from them. As Vogel says about partnered studios, "I think it might be one of the most beautiful experiences a student would have the opportunity to gain."